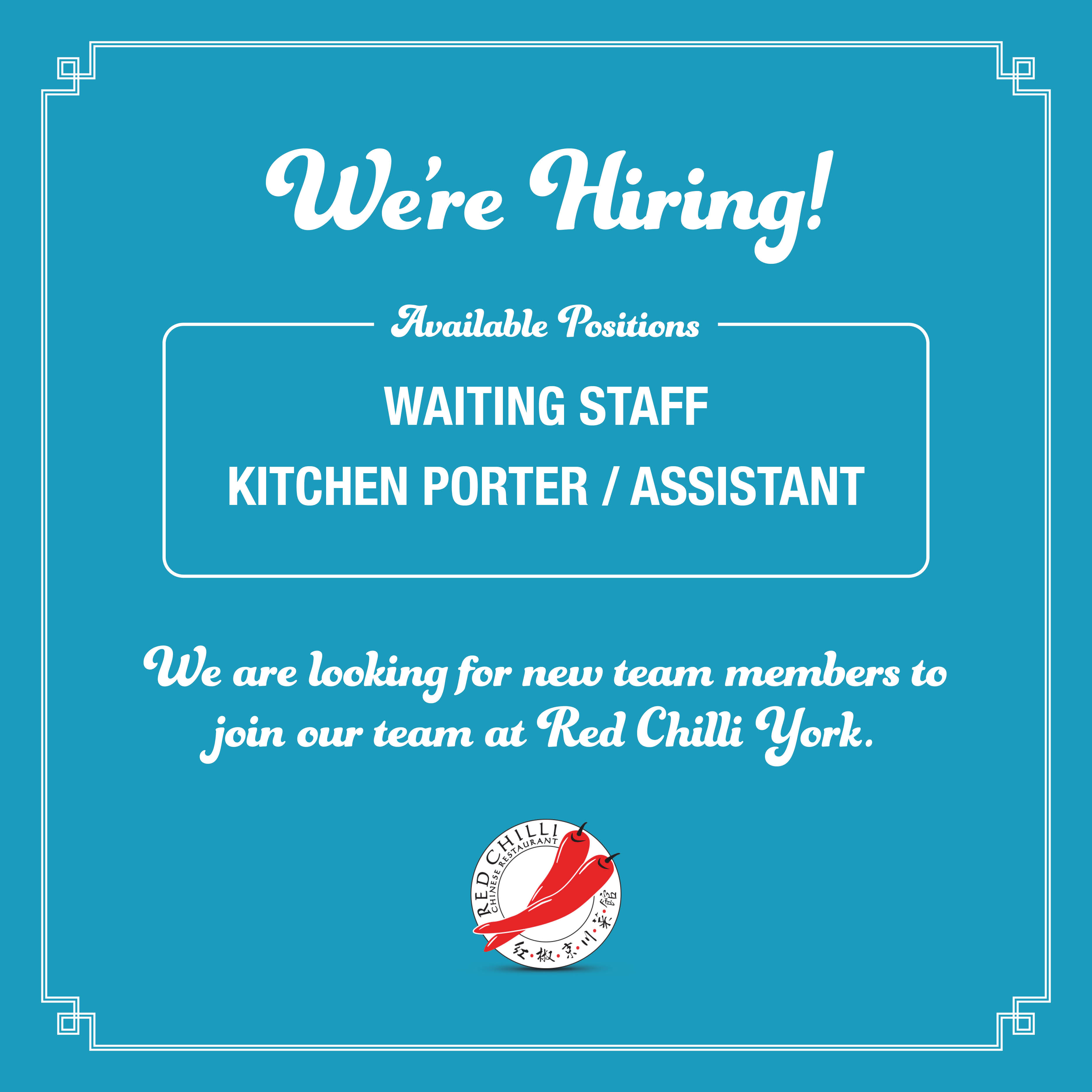 Restaurant Waiter/Waitress/Bar Staffs
Red Chilli Restaurant is chain Chinese restaurant specialised in Beijing and Szechuan Cuisine. We currently have four restaurants, locating at Manchester Portland St., Manchester Oxford Road, Leeds Great George St., and York George Hudson St. We are proud of our fine dining environment, delicious food and professional hospitality services. We are welcoming all the ambitious young people who are willing to join the catering service industry.
What will I be doing?
Welcome guests and take guests to the table

Serving guests both food and drink

Taking food and drink orders

Processing charges and payments

To work as a team with the rest of the department

s

and throughout the

restaurant

Processing bookings and sending detailed confirmations.

Setting up the restaurant on a daily basis

Cleaning front of house and back of house areas
What are we looking for?
With p

ositive attitude and

enthusiasm, enjoy communicating with our customers and

makes

them

smile

—

g

ood communication and personal presentation

Genuinely friendly

,

caring

and humility

Quick to adapt to the environment, e

njoy working as part of a team

and willing to offer help to your colleagues

Passion for food and beverage and willing to learn

Excellent Attention to detail

Ambitious and hard working

Have the responsibility and solve the problems with calmness and intelligence

Good command of English and/or Mandarin Chinese with the ability to communicate confidently

It would be advantageous if you worked in Food and Beverage or in catering/restaurant/bar previously.

There is no specific education or qualification required for this job.
This is a full-time role (40 hours over 5 days per week including weekends and evenings). Competitive Salary.
To apply for this role
We are looking to fill this job as soon as possible and aim to come back to you within the next 2 weeks.

All four restaurants require the front house staffs.

If you are successful, you will be invited for an interview followed by a trial shift.

In line with the Asylum and Immigration Act 1996, we do require all applicants to have the eligibility to live and work in the United Kingdom. Documentation will be required at interview stage
Job Type: Full-time
Kitchen Porter/Assistant (EU citizens are welcome)
Red Chilli Chinese restaurant is a chain Chinese restaurant located at Manchester, Leeds and York. We are now welcoming full-time job seeker from Hungary/Poland/Bulgaria/other EU countries to join in our big group.
You must be proactive, efficient and have high standards of cleanliness and quality. Training provided.
Duty:
Efficiently assisting the chef with food preparation, cleaning dishes and maintaining the kitchen clean and tidy.
Requirement:
Previous experience in the catering industry is NOT essential but would be beneficial

Ability to multi-task and work under pressure

Ability to work according to the needs of the business

Willing to work flexible hours

Can speak or understand basic English

Valid NI number

Valid Driving License will be helpful at recruitment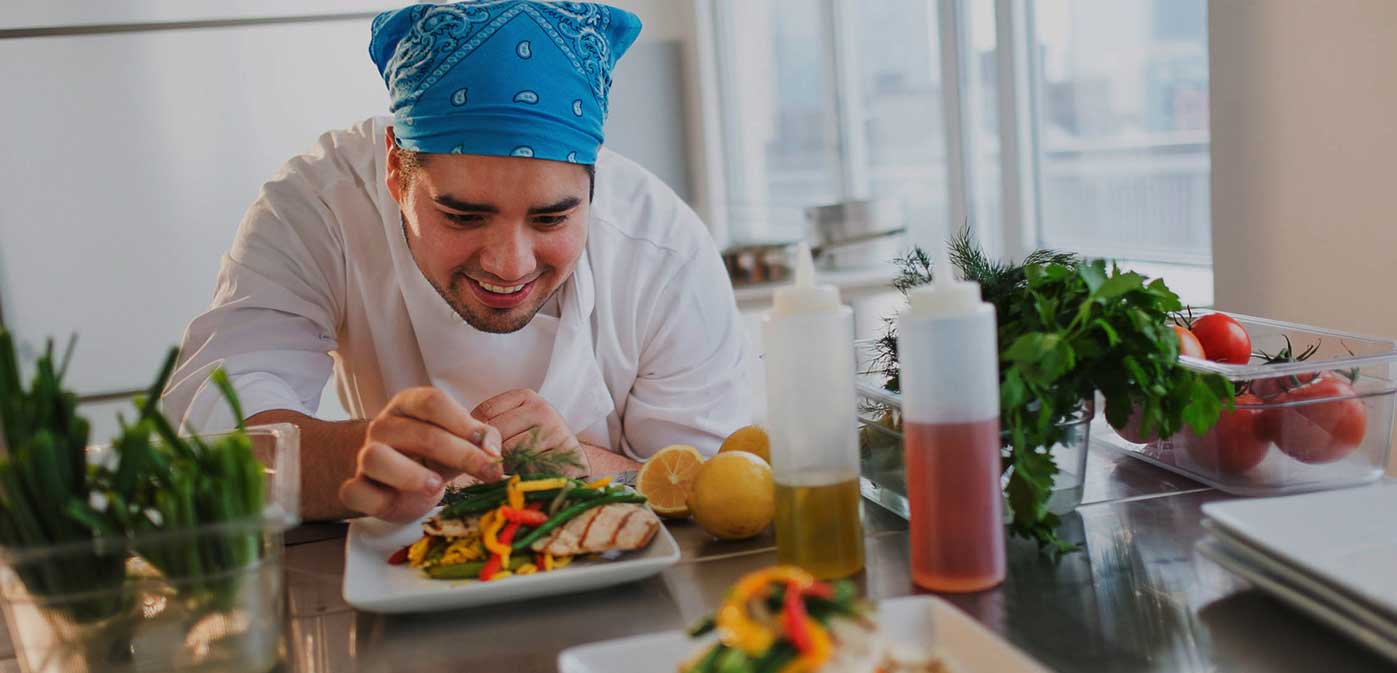 Sous Chef and Specialist Chef Recruitment
Red Chilli is expecting an exciting journey to continue growing and developing our restaurants across the whole country, becoming the purveyors of the finest Beijing and Sichuan cuisine. We offer competitive salary and attractive benefits packages - including career development opportunities, outstanding training & development, excellent food & beverage discounts, pension scheme and above all, an exciting and motivating working environment.
Essential skills & experience:
- Minimum of 5-year experience in a similar role;
- Firm understanding of Beijing & Sichuan cuisine cooking techniques;
- Have passion to deliver fresh, high quality and visual attractive food in exceptional service standards with an attention to detail;
- Good organisation skills and capability to co-operate and take directions from the Front of House Management;
- Possess a proactive attitude and willingness to work as part of Red Chilli Team with enthusiasm and flexibility to assist all departments;
- Ability to manage, motivate and take responsibility for the kitchen team;
- Ability to maintain a pristine work environment and have a firm understanding and practice of Health & Safety Systems.
- Ability to effectively manage GP and labour control;
- Ability to work under pressure and be competent for multi-task and high intensity operation and achieve quick turnover rates;
- Good command of English and/or Mandarin Chinese with the ability to communicate confidently;
Only applicants eligible to work in UK or having a valid UK work permit or visa will be considered for this position.
Please email CV to redchillirecruitment@hotmail.com. Only successful applicants will be contacted. Documented evidence of eligibility and/or references from previous employers will be required as part of the recruitment process and you must be eligible to live and work in the UK. (Asylum & Immigration Act 1996).
约克招聘有身份的厨房师傅数名

红辣椒京川菜馆是位于曼城,利兹和约克的连锁中餐馆。现约克店诚招厨师,炒锅及水台员工。仅限全职,必须有合法身份和工作许可,可提供食宿。

应聘者需满足以下几点:
*有五年以上餐饮厨房经验
*可以说普通话,北方师傅优先考虑
*有责任心肯吃苦
*做事有头有尾,可以时刻保持厨房干净整洁
*有团队意识,有时间观念,不能迟到早退

有意者请发个人简历或个人简介及联系方式到邮箱:redchillirecruitment@hotmail.com
*****来信请注明是从哪个网站看到的应聘信息及应聘的职位*****